Building a Better Auditor: Words Matter
Blogs Mike Royal, CIA, CISA Jan 18, 2023
When it comes to all types of diversity and inclusion, what we say does matter.
In a prior "IAm Mike Royal" blog, you were introduced to me. As a refresher, I am a husband, a father, and blind. Recently, I retired after a 25-year internal auditing career. I have used guide dogs while traveling the world for both work and athletic competitions. During my life, I have leveraged opportunities to demonstrate and inform people about the capabilities of the blind and guide dog user rights.
Read on to learn about a couple of recent encounters that provided active advocacy opportunities.
Game Day
My son's final junior-year high school football game was played at a stadium where I had not attended a game. Therefore, it was not surprising that the security guard working the gate had never had guide dogs in attendance and asked us to wait while he made a quick call to confirm that the dogs were allowed.
The dogs in question were a German shepherd guide dog who was wearing her Fidelco-branded leather harness as she expertly guided me, while following the eight-month-old yellow lab (proudly wearing her puppy-in-training vest) that my wife, Wendy, is raising for Southeastern Guide Dogs. Yeah, when we make an entrance, we make an entrance.
After a short delay, the security guard apologized for the wait.
We told him, "No problem," and as we took our seats, Wendy and I exchanged our thoughts that the situation was professionally handled and went smoothly.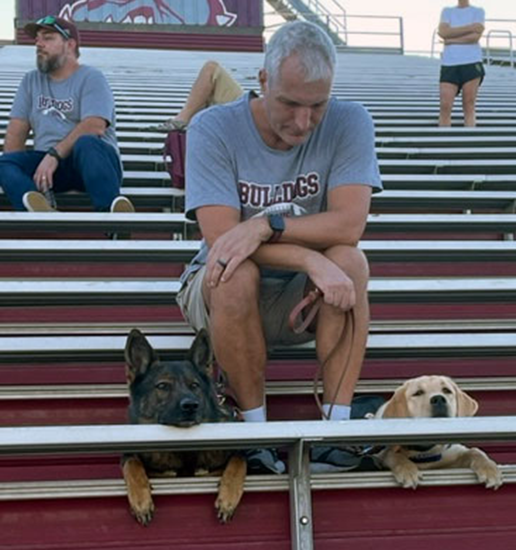 Things were about to get a bit bumpier. Soon after kickoff, a man sitting three rows behind us yelled, "Ref are you blind?!" as our team was flagged for a rule infraction. I smiled to myself, shook my head, and exclaimed, "Unbelievable" to Wendy.
The yelling of "Ref are you blind?!" continued throughout the first half whenever the self-anointed football-official-extraordinaire sitting in the stands thought a call was missed. As the seats between the man and us (Wendy, me, and the two dogs) were empty, my response to the repeated yelling was to put on my best disgusted face, look over my shoulder toward the voice to make fake eye contact, and shake my head. At halftime, I stepped into the aisle with guide dog in harness to allow the puppy to be taken out for a relieving break. I thought maybe the man behind us was so focused on officiating the game, he had not seen the dogs.
When "blind ref" comments commenced again in the second half, I am ashamed to admit how upset I was getting. Usually, I can consider the source of stupid comments and convince myself it is their problem. Instead, on this night, I was visualizing tossing the loudmouth down the bleachers. Luckily, my wife intervened before I could make an unpleasant situation worse. She knew if I retaliated with the sarcastic, in-your-face words I was muttering under my breath, it would not be good. When Wendy turned around, she ensured eye contact was made before informing the man he was "rude," and asking, "Don't you know he is blind?" In response, she received a mouthed, "I am sorry" on the man's very embarrassed face. Maybe some education occurred, but anything but "smooth" comes to mind with this encounter.
Trick-or-Treat
A few days later, I came across an article about Jerry Jones, the owner, president, and general manager of the Dallas Cowboys, and his "blind referee" costume that was posted to social media. If you want to model your behaviors after a billionaire NFL owner, maybe consider how fans reacted and how blindness organizations responded.
You Make the Call
Be honest, some of you reading this post have screamed at the field or television something like, "Referee, are you blind?" when you thought a call was missed that would have been to your team's advantage.
Now, hopefully, you are asking yourself if your use of "blind" was appropriate.
Let us examine what exactly what was intended by your statement. Did you mean, "Ref, did you not see <insert the rule violation you think you saw here> that would have given an advantage to my team?" or alternatively, did you mean to infer that the referee was "stupid, ignorant or unaware."
If the latter, please stop associating "blind" with "stupid, ignorant or unaware." It only serves to promote a negative stereotype.
If the former, do not worry, instant replay will probably remediate the error and, if not, it is only a game after all. Ask yourself again if this is really what you meant to express. Recall as a retired auditor, I am a former "professional skeptic" and may not believe some of your best friends are referees, blind, or both.
Final Words
If someone tells me, "See you later" or replies that a draft proposal "looks good," I take no offense. I simply understand these are typical, everyday expressions and no harm or mean spirit is behind the usage.
And I know that terminology can be confusing, as some individuals are okay with the use of "blind," while some people prefer using "visually impaired," "sight loss," or other wording. Further, depending on who you ask, person-first language or disability-first language is preferred. When you do not know what to say, simply ask how someone how they would like to be addressed. For me, these days, I am good with "blind referee" but would answer to "the referee who is blind," as well.
I have been known to make a light-hearted blind joke in an attempt to get people to laugh with me, but not at me. In this spirit, hopefully no one was too offended by the picture of me wearing the referee uniform next to my guide dog. As a non-billionaire blind man, I feel, it is okay for me to make such a joke. And perhaps, NFL owners should stick to poking fun at fellow billionaires.
Finally, in recognition of Martin Luther King Jr. Day this week, please remember that words matter for all types of diversity.
Mike Royal, CIA, CISA
Speaker, retired auditor, and athlete, based in Magnolia Texas.
Learn more with our other resources